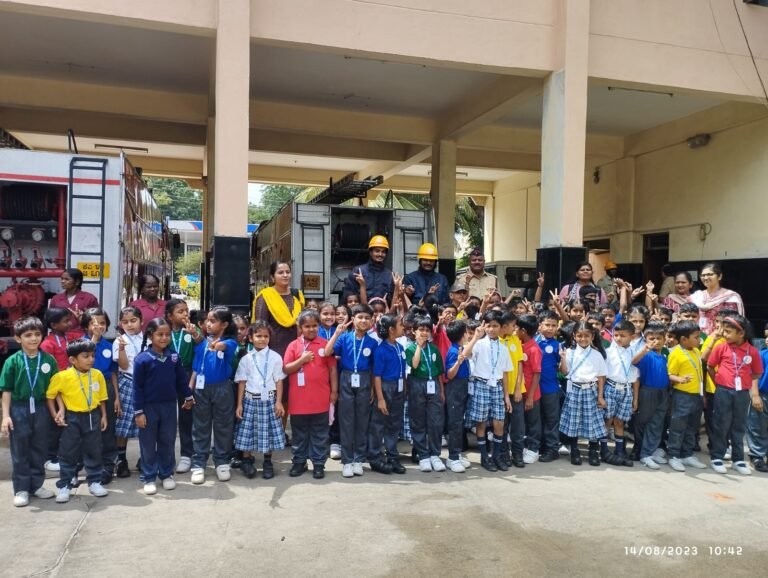 Introduction:
Field trips have long been recognised as valuable opportunities for students to bridge the gap between classroom learning and real-world experiences. Such excursions expand a student's horizons and allow them to witness first-hand the theoretical knowledge shared in class.
The objective of the Trip:
The primary goal of this trip was to introduce the students of grades 1 and 2 to the critical role of community helpers in society. By visiting the Banaswadi Fire Station on 14th August 2023, the students were expected to gain an understanding of how firefighters function and the equipment they use.
Activities Conducted:
Upon arrival at the fire station:
Equipment Demonstration: The students were introduced to various types of fire extinguishers, cutting machines, and other firefighting tools. They also saw the fire truck in action, particularly noting the ladder that allows firefighters to reach elevated places.
Water Hose Demonstration: The children witnessed the strength and mechanism of the water hose, observing how it efficiently puts out flames.
Interaction with Firefighters: The highlight of the visit was when students got the chance to converse with brave firefighters. Through this interaction, they discovered the importance of teamwork in extinguishing fires and saving lives.
Recreational Activities:
After the enlightening visit to the fire station, the students were taken to a nearby park. This location provided a pleasant environment for the children to relax, play games, and enjoy their meals.
Conclusion:
The field trip to Banaswadi Fire Station was a blend of education and entertainment. The students returned with increased respect for community helpers and enriched knowledge about firefighting. Overall, it was a day of much learning, camaraderie, and fun.