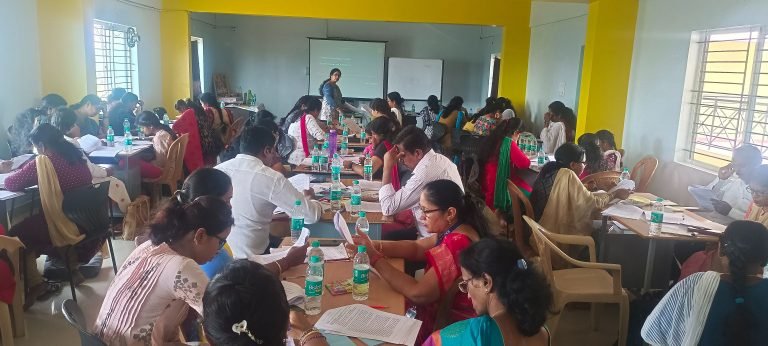 'The capacity to learn is a gift, the ability to learn is a skill, the willingness to learn is a choice.'
In the ever-evolving landscape of our world, where adaptation is paramount, the pursuit of constant improvement becomes a necessity. With an unwavering commitment to advancement, Paramount Public School undertook a momentous endeavour by organizing a profound two-day CBSE workshop on the art of 'Classroom Management,' held on the 12th and 13th of May, 2023.
Drawing an audience of around 60 participants from diverse educational institutions, alongside the esteemed educators of Paramount Public School, this workshop proved to be an enlightening experience. The workshop was skilfully conducted by the resourceful Mrs Gowri B Nataraja and Mrs Anitha Bijesh, whose expertise unveiled invaluable insights into the realm of effective classroom management.
Throughout the workshop, the focal points revolved around the essential elements of classroom management, encompassing content management, conduct management, and covenant management. A plethora of innovative practices aimed at enhancing the teaching and learning process were thoughtfully deliberated upon. The resourceful speakers emphasized the significance of effective management and encouraged teachers to harness the wealth of innovative teaching methods at their disposal. It was emphasized that the responsibilities and duties of teachers must align with the evolving needs and creative potential of their students, thereby enabling a profound understanding of their vibrant minds.
Moreover, the workshop placed a strong emphasis on addressing student concerns and reducing stress by replacing punitive measures with thoughtful consequences. This shift in approach fostered an atmosphere of understanding and growth within the classroom.
The workshop served as an interactive platform, allowing teachers to collaborate and devise innovative strategies that can be implemented in real classroom scenarios. The resourceful speakers kindly addressed the queries and doubts of the attendees during a fruitful question-and-answer session. Overall, the workshop proved to be a truly enriching experience, leaving the participants inspired and equipped with valuable tools for their professional journeys."