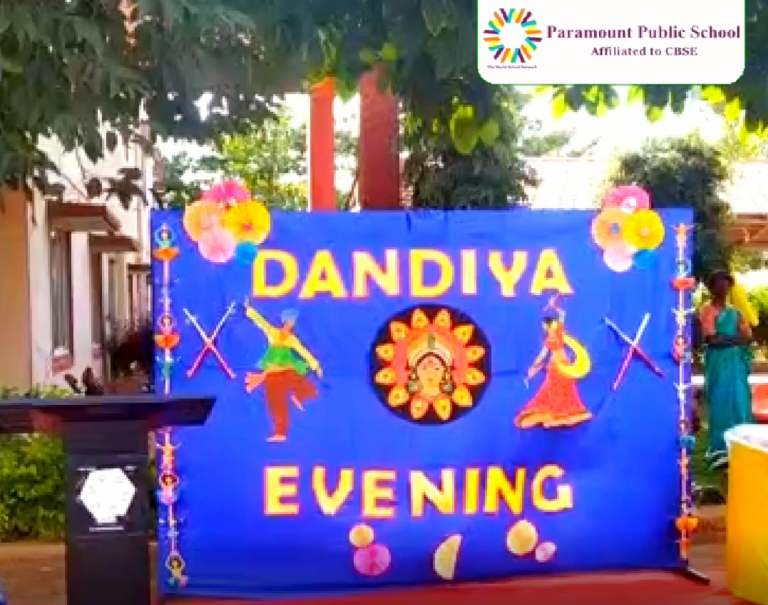 Paramount Public school in collaboration with Diamond International Academy organised 'Dandiya Evening; a fun filled celebration, on 23rd September 2022, in the school premises. A cultural evening of Dandiya Raas along with lip smacking cuisines generated immense fun and frolic. People in pursuit of a refreshing break from their hectic daily schedule, enjoyed the evening with an absolute sense of freedom and exaltation. It was an evening well spent with the loved ones , while enjoying the festive fervor with scrumptious food. After the auspicious lighting of the lamp by Mr. Sudhir Kartha, Chairman, Knowleducate, guests were welcomed with a thoughtful welcome speech and mesmerizing welcome dance. 
Mr. Barry Rodrigues, Principal Diamond International Academy, also welcomed and thanked the parents for joining the schools to make the event a grand success. The crowd enjoyed music and dance and ecstasy of this celebration. It was a wonderful spectacle of energetic dance moves of not only young boys and girls swirling in graceful rhythmic patterns but also the parents, grandparents, uncles, auntie's siblings and friends delicately balancing themselves on the beats. 
It seemed as if everyone was under some musical spell. The event culminated with a prize distribution ceremony for the lucky draw. The Principal of the school, Mrs N Shivajyothi proposed vote of thanks and the event ended with a smile on the faces of all guests.