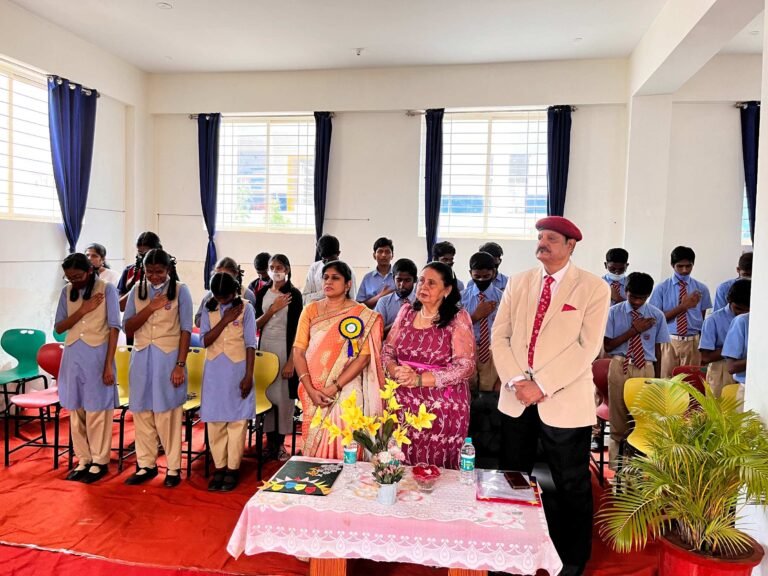 Leadership is the capacity to translate vision into reality. —Warren Bennis
The Investiture Ceremony of Paramount Public School for the academic session 2022-23 was held on 16th July 2022 with great pomp and dignity in a special ceremony. The event was presided over by the School Principal and was conducted with the high degree of earnestness and passion.
The Investiture ceremony signifies the reliance and confidence that the school consigns in the newly invested office bearers. 
The ceremony was held with lots of zeal and zest. It began with the lighting of the lamp followed by welcome dance. The march by all the office bearers was a spectacular event which set the mood for the event. The elected Leaders' were conferred with badges and sashes by Honourable Chief Guest Mr. Barry Rodrigues, Principal Diamond School and the Guest for the day, Mrs Charlotte. 
The Oath was administered by the Principal Ms. Shivajyothi and student council took the oath to bestow their duties to the best of their abilities. 
The Chief Guest congratulated and admonished them to be impartial and honest in discharging their duties. He also exhorted them to uphold the values. He reminded them that with position comes responsibility towards themselves, their school and peers and struggles help one to achieve heights.
The Principal also appreciated and congratulated them. She advised them to be role models and support for the smooth running of the school. 
The School captain in his speech thanked the students for electing him and promised to live up the expectations of school in discharging his duties.
The function concluded with the National Anthem.
Student Council 2022-23
| | | |
| --- | --- | --- |
| Students Name | Class | Post |
| Ethan Darvin | 10 | School Captain |
| Poorvika G H | 9 | School Vice-Captain |
| Akshay | 10 | Discipline Captain |
| Drasti Pankaj Patel | 10 | Sports Captain |
| Gouthami R | 10 | Cultural Captain |
| Ridhima D | 9 | Red House Captain |
| Sharon David P | 8 | Red House Vice-Captain |
| Basilica Mary | 9 | Blue House Captain |
| Charan K | 8 | Blue  House  Vice-Captain |
| Lalith Adithya Reddy S | 9 | Green House Captain |
| Chinamayi .C | 8 | Green House  Vice-Captain |
| Meghana B | 9 | Yellow  House Captain |
| Tanish Joseph | 8 | Yellow  House   Vice-Captain |
| Kenisha S Kasimkota | 7 | Prefect |
| Vikas G H | 7 | Prefect |
| Raksha R | 6 | Prefect |
| Abhiraj Singh | 6 | Prefect |
| Charanya P | 5 | Prefect |
| Tejaswini | 5 | Prefect |
| Greeshma Gloria P | 5 | Prefect |
| Md. Abdul Haadi | 5 | Prefect |