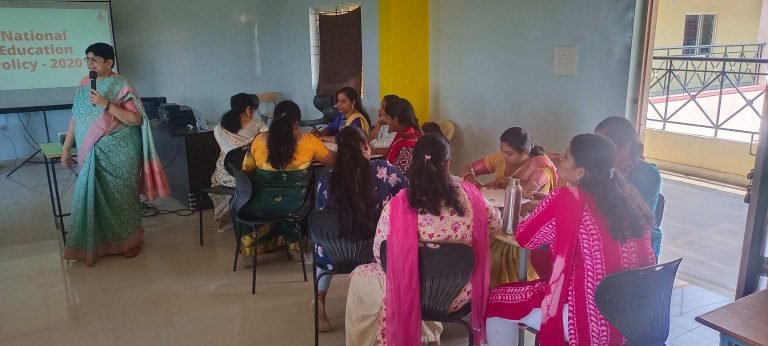 The role of a teacher extends beyond the confines of the classroom, embracing a lifelong journey of learning. In recognition of the ever-evolving landscape of technology and the evolving mindset of students, Paramount Public School recently organized a workshop designed to delve into the depths of the New Education Policy and explore the art of teaching with distinction.
Guiding this enlightening workshop was the esteemed Mrs Sunita Phadnis, an accomplished freelance teacher. The workshop aimed to highlight the objectives and features of the NEP, while familiarizing educators with the innovative curricular and pedagogical structure that shapes education in India today. Various compelling topics were addressed, including the pressing issue of the Global Learning Crises, the essence of inclusive education, the multifaceted domains of learning, and the fundamental pillars underpinning education. Furthermore, emphasis was placed on the significance of deep conceptual learning.
Engaging activities were meticulously organized to kindle the spirits of the teachers, allowing them to actively participate and internalize the concepts explored. As the workshop drew to a close, a heartfelt vote of thanks and deep appreciation was extended to Mrs Sunita Phadnis for her unwavering dedication and tireless efforts in ensuring the success of this enriching experience, leaving an indelible mark on the professional growth of the attending educators.