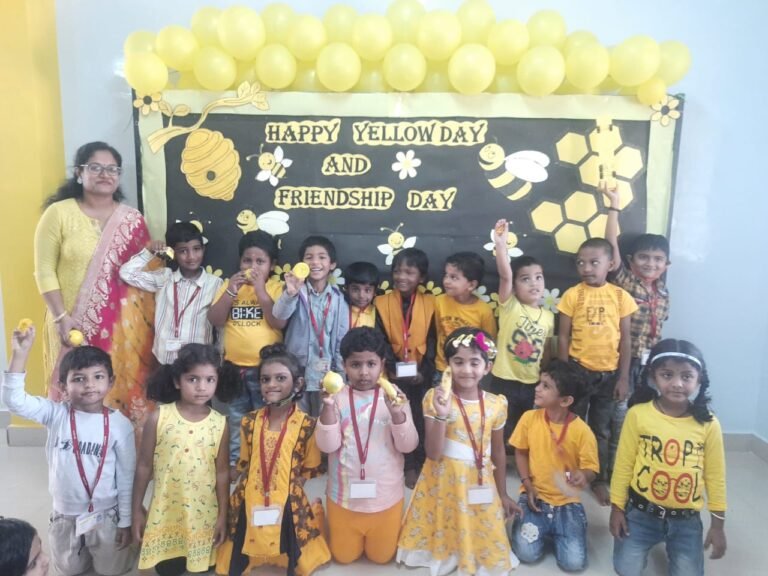 "Shades of yellow stimulate our little ones with happiness, energy and optimism……."
With an objective to recapitulate and reinforce the effects of yellow colour, Kinder garten section celebrated "Yellow day and Friendship Day on 4th August 2022.
A day dedicated to the yellow colour was marked with children dressed in different hues and tints of yellow.
Tiffin's were filled with bananas, custard, jelly, mangoes, pineapples etc.
A garden with paper sunflowers was also set up in the KG classes. Children made beautiful sunflowers for themselves.
"There is something about childhood friends that you just can't replace!"
Yellow being the symbol of friendship ,tiny tots also celebrated Friendship day and exchanged friendship bands and quite possibly made friends for life.
Focusing on the theme the teachers planned art and collage activities and their art work was displayed on the soft boards. To make the children understand about the significance of yellow colour, various colorful activities including drawing, coloring, paper craft etc. were conducted in a lively, vibrant and high spirited environment.
Cheerful Children attired in yellow outfits were sparkling with optimism, enlightenment and happiness. Beams of yellow shades carried the promise of a positive future flashing creative thoughts in the young minds.
The motive of celebrating this yellow colour day was to make the children aware of yellow colour, its significance and to develop fine motor skills in the students. They spent the day with utmost enjoyment.
Yellow- the colour of wisdom and intellectual energy had a positive influence on our tender tots."