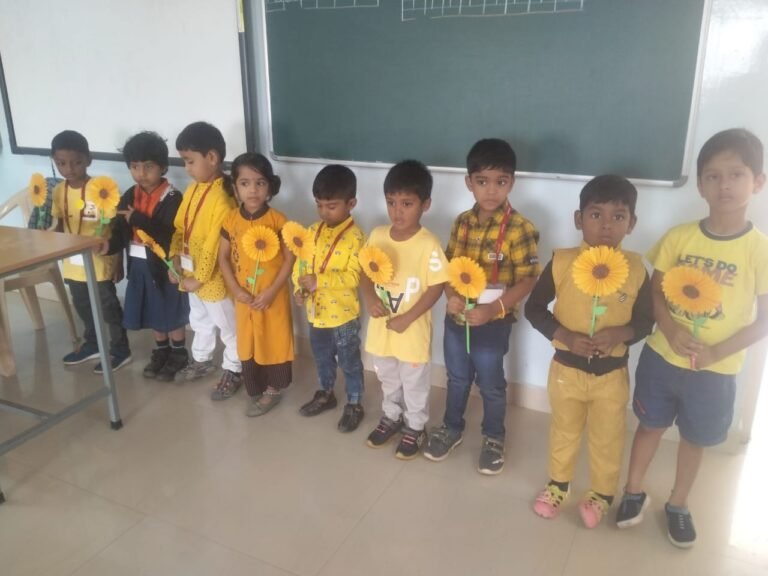 On August 4th, 2023, the Pre-School division of PPS embraced the vibrancy of Yellow Day. This special celebration aimed not only to introduce students to the significance of yellow but also to hone their fine motor skills.
 
Decked out in varying shades of yellow, students and teachers brought the colour to life. The young learners showcased an array of yellow objects, sharing stories and insights about them. The atmosphere buzzed with excitement as children engaged in diverse Yellow Day activities. From meticulously pasting millets on sunflower cut-outs (representing seeds) to yellow paint printing on sunflowers, and colouring yellow-themed objects, the enthusiasm was palpable.
 
Children delighted in yellow snacks like juicy mangoes, crunchy baby corn, zesty lemon rice, and ripe bananas, adding a delicious twist to the day. Moreover, students exchanged friendship bands in the spirit of camaraderie and to honour Friendship Day. Witnessing them express love, care, and the spirit of sharing as they tied these bands around their classmates' wrists was indeed heart-warming.
 
In a nutshell, PPS Pre-School's Yellow Day and Friendship Day celebrations were a resounding success, marked by joy, learning, and the spirit of togetherness.